More than one-third of deaths in children 14 and under are due to accidents in the home.
Are you expecting? Do you have small children in the house?
Even grandparents, aunts, uncles, and babysitters benefit from a baby-proofed home.
Baby-proofing is a must if you're expecting a child or already have little ones. The good news is that there are plenty of ways to babyproof your home without breaking the bank.
The cleaning professionals at Sparkle and Shine have compiled a list of the top 10 tips for baby-proofing your home to make it easier for you.
1. Drawers and Cabinets
Many dangers lurk in drawers and inside cabinets. It's essential to put baby locks on all cabinets and drawers. It'll take a few hours to install these locks, but it's time well spent.
Baby locks also help keep young children from smashing their fingers in the doors or drawers.
2. Doorknobs
It's impressive how well little fingers learn how to open doors! Doors are great for keeping children out of rooms they shouldn't be in. But doors only work if the children can't get them open.
Be sure and put doorknob safety covers on all doors. Sometimes these covers make it hard for adults to get through the door. But they're essential for protecting children.
Hook and eye latch also work well, especially for doors that lead outside. Place the hook and latch-up high, well out of the baby's reach.
3. Bathrooms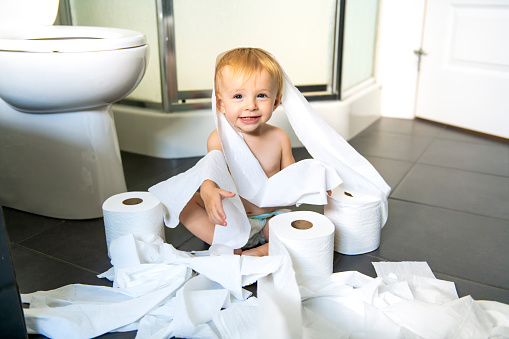 Bathrooms are unsafe places for babies and infants. Kids love to play in toilets, but disease lurks in the toilet bowl. You don't want the baby drinking out of the bathroom so invest in a lid lock for the toilet.
There's enough water in a toilet for a baby to drown. If a baby is playing and falls head first into the bathroom, you might not hear him, and drowning occurs fast.
Bathtubs are another obvious danger for two reasons. The apparent reason is drowning. Never leave a baby unattended in the tub. The less apparent reason is scalding. While the kids are little, turn your water heater down to 48 degrees or less. Many children have been badly burned by hot water from the faucet.
4. Furniture
Coffee tables with sharp edges are dangerous to toddlers learning to walk. A child can be severely injured by falling into a sharp corner on a piece of furniture.
Children have been crushed by falling dressers, bookshelves, and televisions. Children open drawers and climb up the front of the furniture. If a piece of furniture might fall, anchor it to the wall.
5. Stairs
Stairs are a common cause of falls for both adults and children. Baby gates at the top and bottom of the staircase work well. If you have a staircase, don't let your baby use a wheeled walker, even if you have baby gates.
Beware of small throw rugs at the top of the staircase. It's easy for adults and children to trip on a carpet and fall down the stairs.
6. Kitchen
Children have died from food products that are considered harmless. Did you know that a child can choke and die from inhaling cinnamon? The cinnamon goes into the lungs and can kill from choking and asphyxiation.
Popcorn, candies, and nuts are all foods that babies can choke on. Marshmallows, peanut butter, and honey are also dangerous foods.
Many people store toxic cleaning products under the kitchen sink. If you've been thinking of going green, now's a good time to switch to non-toxic products.
7. Electrical Outlets
Children love electrical outlets. They also like sticking things into the outlets. Most people don't understand how dangerous household electricity is. An electric shock can instantly stop your heart from beating.
Cover all electrical outlets within your child's reach with child safety socket covers. These are inexpensive and easy to use. Beware that some children figure out how to remove them early!
8. Window Coverings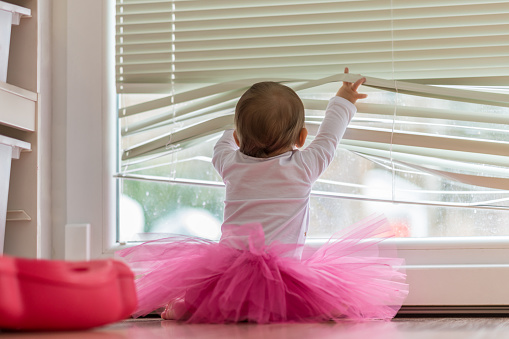 Most window coverings are now required by law to be child safe. It is best to ensure all your blinds are cordless or at least have child-safe cords. Window blind cords are hazardous for children three and under.
Most of these deaths are silent and can occur with a parent in the other room. Children playing in a crib near a window are the most common victims of cord strangulation.
If you have old-style window blinds with cords, properly dispose of them. Replace them with cordless window blinds. Don't try tying them up and out of the way. Children are mini-magicians when it comes to getting into things. It's not worth the risk.
9. Fireplace
Fire is dangerous to children. But even a cold fireplace without a fire is a danger. If you have a gas fireplace, put the gas key up high and out of the way.
Move dangerous fireplace tools into the garage or other protected spaces when not in use. Even if you have sturdy glass doors covering the fire when it's lit, infants shouldn't be near the fireplace.
Some fireplaces are raised off the floor with a bench-like seat in front of them. If the seat edges are stone or other hard material, cover them with bumpers. That way, the baby can't hit her head if she falls near the fireplace.
10. Nursery
Use a crib with fixed sides. Drop-side cribs have killed babies. Don't use baby bumpers. A child's head can get caught under them. Make sure the slats on the crib are 6 cm or less apart. This way, the baby can't get its head stuck between slats.
Keep the crib away from the windows. Don't put wall hangings of any kind close to the crib. As your baby learns to stand, take down the mobiles hanging over the crib.
Pillows are a suffocation hazard, and children don't need them. Don't use pillows of any kind. Don't use heavy blankets either, since they're also a suffocation hazard. If it's cold, dress the baby in the appropriate clothing so it doesn't need covers.
Baby Proofing
Having a child is a wonderful and amazing experience! Keep it joyful by making you have a baby-proofed home to avoid accidents.
Keep baby away from water, food, electricity, and furniture hazards. Always store medications in a safe and locked place that's up high. Take advantage of outlet covers, drawer locks, and handle locks.
Keep the house clean and free of anything that could harm your baby. Need some help with the cleaning? Book a cleaning today.