Today, the master bedroom is a common site in most modern homes. In fact, some new homes are even built with two master bedrooms. However, you might be surprised to learn that the master suite is a relatively new concept.
Before the 18th century, most people slept communally in spaces that had more than one purpose, such as a great hall. By the 19th and 20th centuries, the private bedroom had become more common, but they tended to be small so that they wouldn't be too hard to heat.
But modern technology now allows for master bedrooms to be large, self-contained, beautiful spaces that feel like their own little apartments.
If you have a master bedroom, make sure you're taking full advantage of the space.
However, when you're organizing and decorating your master bedroom, it can be difficult to know where to start. That's why seeking help to organise and decorate your room is a great idea even if its just to help with cleaning after all the work is done.
And if you are looking for tips to do it yourself, you're on the right page.
These decorating hacks will help make it feel luxurious, no matter what the measurements are.
Keep reading, and get ready to DIY the master bedroom of your dreams!
Switch Out the Hardware
You can upgrade your bedroom furniture without needing to hire movers for the day. Give your old dressers and bedside tables new life with some new hardware. It's cheap and easy to install on your own but can totally change up the look.
Decorative drawer pulls can be classy and tie the room together if you make a chic choice. Decide on a theme for your bedroom makeover, then choose the hardware to match – or just pick something that you think looks nice.
Mount a Headboard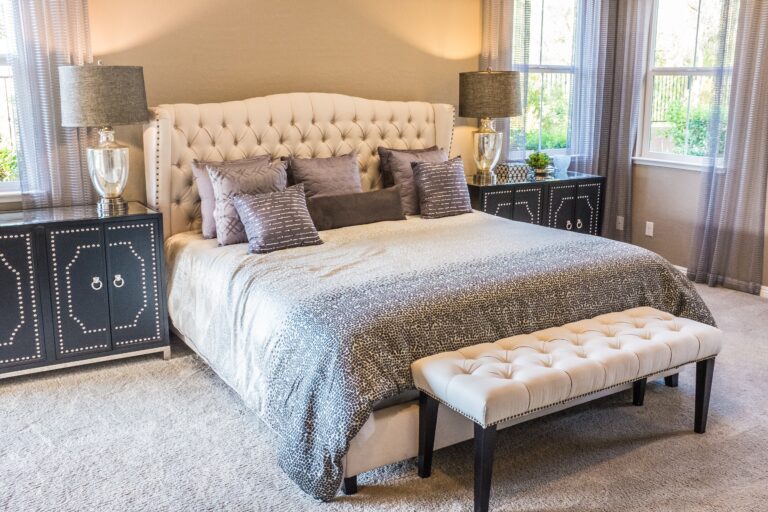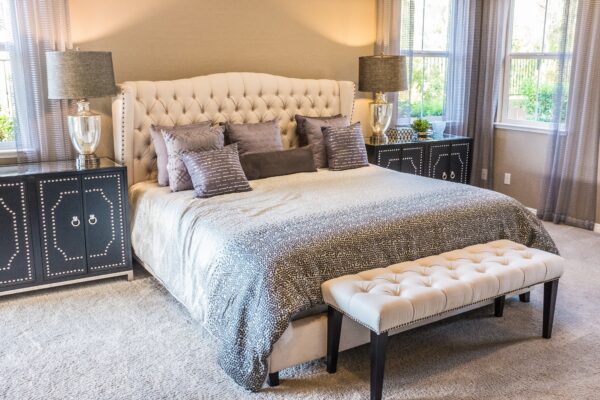 If your bed doesn't have a headboard, or you don't like your current one, a new wall-mounted one is inexpensive and simple to install. If you don't want to deal with moving a whole headboard, get creative with a wall stencil headboard design. This is one of the easiest ways to customize the look of your bed.
Switch Up the Bedding
Buying new bedding can give your old bed new life. However, you can also use the bedding you already have to give it a creative new look. You probably have more than one bedding set – try mixing and matching different elements from each one, such as pillowcases and duvet covers, for a creative, shabby-chic look.
Revamp Your Dresser
You can turn any old dresser into a statement piece by creating a beautiful, artistic display above it. Try hanging a painting or artfully framed poster above it, add some figurines on top, or even just put up your favourite family photos.
Declutter Your Space
Clutter is one of the top culprits for feeling stressed and uncomfortable at home. In fact, the National Institute of Mental Health has linked clutter to feeling more distressed, depressed, and generally stressed.
Luckily, it's easy to get rid of those negative effects. Clean up, move, or hide anything in your bedroom that's not tied to rest, relaxation, and recharging. Consider removing the television from your bedroom if you have one, too – watching TV before bed can inhibit your ability to sleep well.
Buy pretty containers to hide your clutter, if you feel you still need it in the room. Out of sight, out of mind – but you'll know exactly where it is just in case.
Make a Reading Nook
Even in a small master suite, you can easily build a reading corner. You just need a comfy chair, a lamp, and a book. Any little corner of your bedroom will have a whole new purpose. Add a blanket and a few cute pillows for added flair and comfort.
Trim Your Bedding
Another way to revive your old bedding is to add some pretty trim. This just takes some fabric trim and a bit of simple sewing knowledge. Sew new borders on your blankets, pillowcases, or bed skirts. This is also a great way to make your old bedding match a new colour scheme.
Find a Great Rug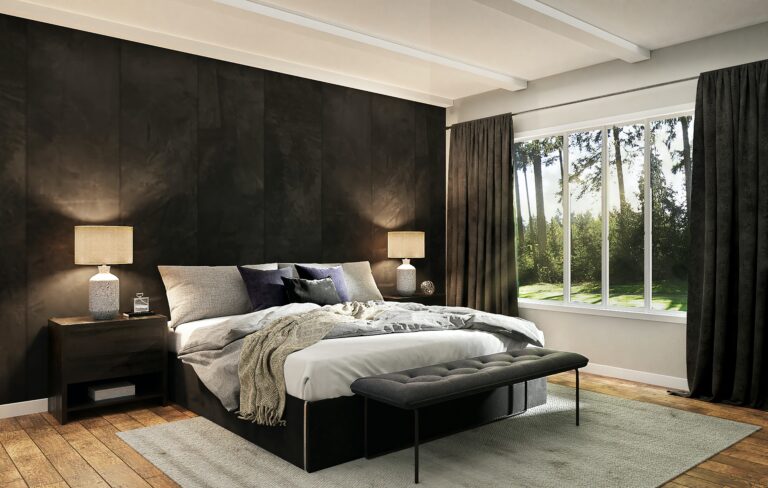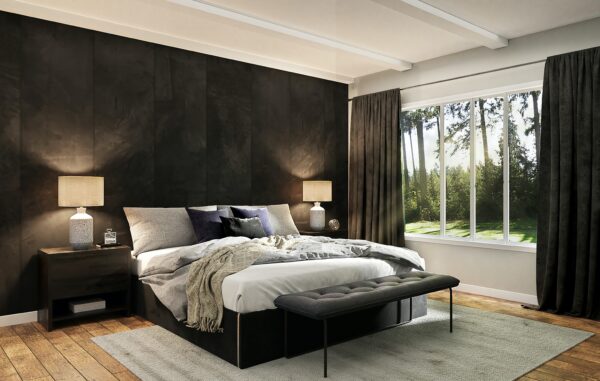 A rug on the floor can make a room feel more cosy and pulled-together. The right size of rug can even make a small room look bigger. If your master suite has carpet, don't worry. You can still put a rug on top and get the same effect.
For the best results, find a rug that's large enough to fit under the bed and at least one more item of furniture. This will give the best visual effect.
Move Things Around
Maybe you decorated your master suite when you first moved in, so you don't think you need to change anything. However, shaking things up by moving your decor elements around can breathe new life into the room. Rearrange your decorative items, and don't forget to flip and rotate your mattress while you're at it.
Change Window Dressings
Change your curtains, or add some if you don't have any, for a brand-new bedroom look. You can also add a valance to make existing curtains look prettier. Choose a patterned valance for solid curtains, and vice versa, for a coordinated contrast effect.
Switch Up the Lighting
The overhead lights are almost never the ideal lighting for relaxing in your room. Make sure to add plenty of alternative light options, such as lamps or wall sconces, so you can have subdued, pretty lighting. You can even add three-way bulbs so you can change the level depending on your mood.
Ready to Fix Up Your Master Suite with these decorating hacks?
Choose just a few of these decorating hacks for now – you don't need to do everything all at once to get the best results. You'll be surprised by the difference one little change can make!
Of course, there's no denying that if your room isn't clean, there's no hack that will fix up the space. However, you can save your time for your new decorating projects by hiring a great cleaning service. Book a cleaning with us today to get started!